Best Metals for Nose Rings: Pros, Cons, and Prices
One of the most important factors in the success of nose piercings is the material you choose. If you're considering a nose piercing, here are some of the best metals for nose rings (as well as some to avoid).
The Best Metals for Nose Rings and Other Piercing Jewelry
1. Implant-Grade Titanium
Titanium is an element that is completely hypoallergenic, so it's probably the best material for nose rings, especially if you have sensitive skin.
Implant-grade titanium is the purest form and will not change or corrode if it's exposed to skin or bodily fluids. Implant-grade titanium jewelry is durable, hypoallergic, lead-free, nickel free, and non-corrosive.
Implant-grade titanium is often marketed as ASTM F-136 titanium. Compared to ASTM F-136 titanium, G23 titanium is not an implant grade of titanium.
Price Range: About $10-$20.
Pros:
Approved by the Association of Professional Piercers
Won't cause allergic reactions
Is scratch-resistant and won't fade
Cons:
Not as valuable as gold, silver, or platinum
Doesn't sparkle quite as much as other metals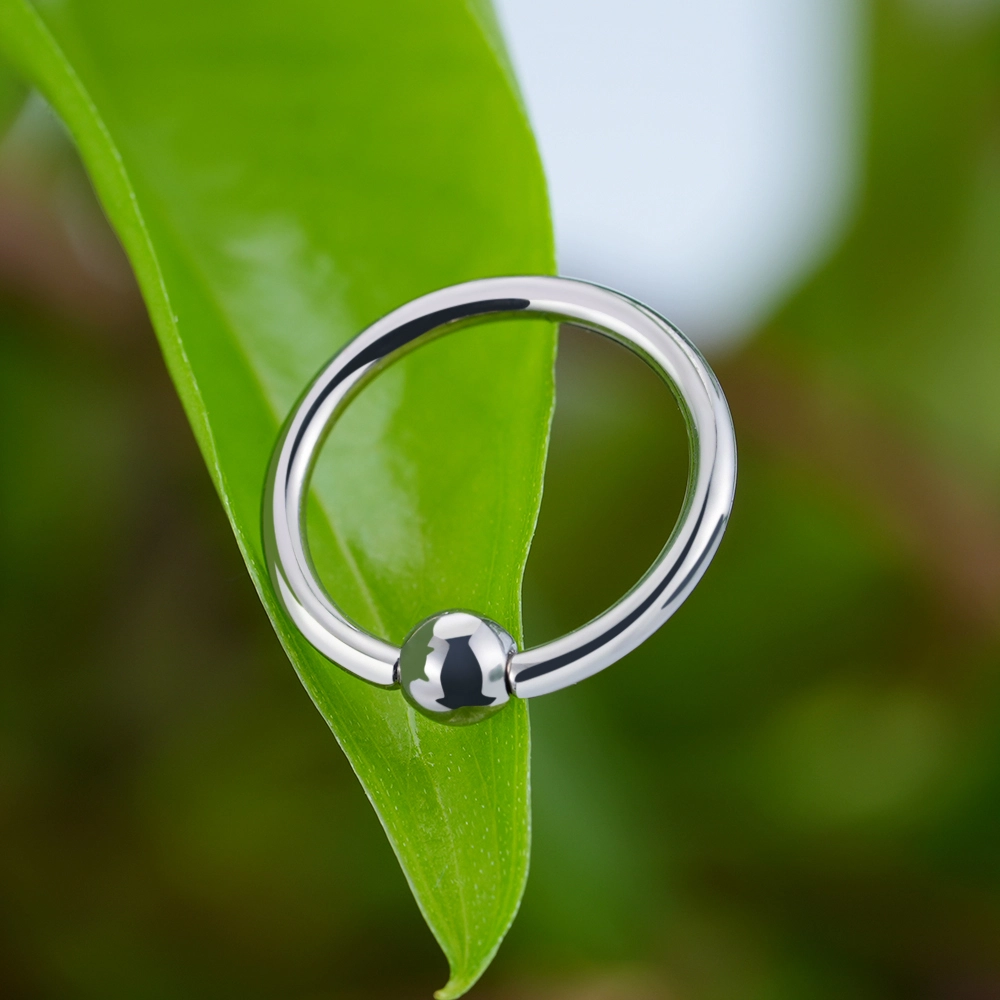 Ashley Piercing Jewelry captive bead nose ring implant-grade titanium nose ring $15.9, SHOP NOW.
2. 14K or 18K Gold
If you're looking for a glittering, valuable metal for your nose jewelry, either 14K or 18K gold may be your answer.
It is also one of the best metals for nose rings that are highly recommended not only by piercing experts but also doctors. Its excellent quality of being inert makes it suitable for first piercings.
However, gold is a fairly soft metal, so it doesn't stand up to scratches and excessive wear. Compared to 14K gold, 18K gold is more prone to being affected by everyday use as it is softer and is closer to being pure 24K gold.
Both of these metals include other metal types in order to make them stronger. In order to avoid skin reactions, look for nickel-free metals.
Price Range: About $30-$200.
Pros:
One of the most valuable materials
Will not easily tarnish
Offers plenty of sparkle
Is easy to engrave or use to set stones
Cons:
May contain non-hypoallergenic metals
18K gold in particular is not very scratch-resistant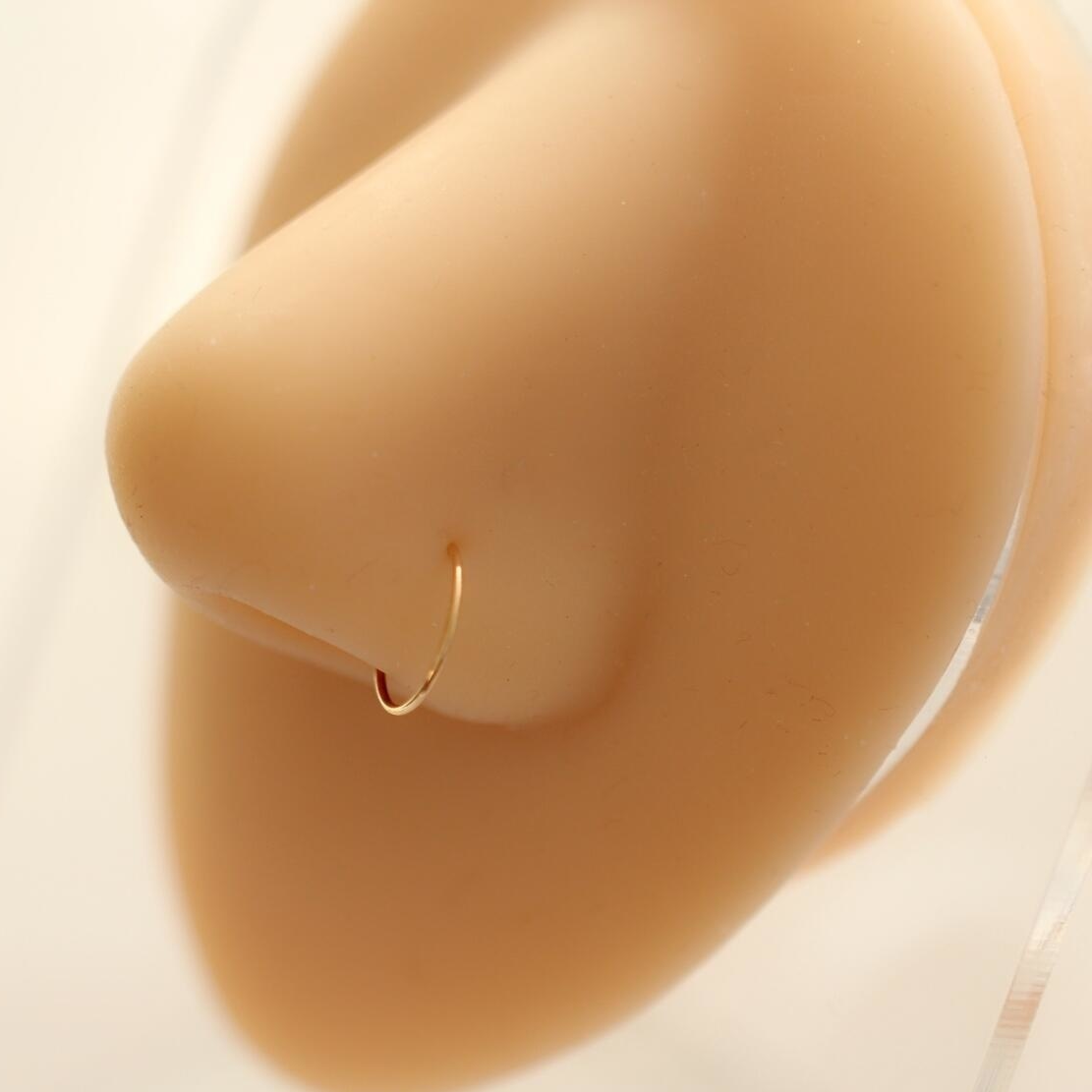 Ashley Piercing Jewelry 14K gold nose ring simple and minimalist $34.9, SHOP NOW.
3. Platinum
Platinum is a precious metal, so it's one of the pricier options on the list. It's completely hypoallergenic, so it's safe for even very sensitive skin. Its brilliant luster makes it a good choice for those seeking a sparkly, high-end look.
Price Range: About $40-$200.
Pros:
Hypoallergenic and non-reactive
Has a brilliant shine
Is a very valuable material
Cons:
Is a lot heavier than other metals
It's uncommon, so your jewelry choices might be limited
4. Surgical Stainless Steel
Lots of new piercings are done in stainless steel. This material is affordable and typically doesn't cause reactions. However, it contains a small amount of nickel, so if you have a nickel allergy, it might be best to choose something else.
It is incredibly resistant to corrosion and will keep its shine for years.
If you're considering steel, 316L or 316 LVM steel is probably your best choice. Both names stand for the same surgical steel material, but the "VM" stands for"vacuum melt," or the way the steel is produced.
Price Range: About $10-$40.
Pros:
Very affordable
Common enough that you'll have plenty of jewelry choices
Extremely durable and resistant to damage and corrosion
Cons:
May cause reactions in those with nickel allergies
Not considered as valuable as some other materials
5. Niobium
Niobium is also one of the best metals for nose rings. It is a highly pure, hypoallergenic metal that's a lot like titanium. However, it is heavier than titanium and more expensive to produce, so it tends to be harder to find in the world of body jewelry.
Price Range: About $20-$60.
Pros:
Won't react when exposed to bodily fluids
Completely hypoallergenic
Has a brilliant shine
Cons:
Rare enough that your jewelry choices might be limited
Heavier than titanium
6. Fine Silver
If you like high-end metals, the shine of pure silver might be right for you. However, this is a piercing material that should be handled with care. It's softer and less durable than many other choices.
If you want a pure silver nose ring, wait to get one until your initial piercing has healed. Silver can oxidize and turn black (or tarnish), and that process speeds up when the metal is exposed to bodily fluids.
Price Range: About $20-$150.
Pros:
One of the more valuable jewelry materials
Has a beautiful shine
Is common enough that should have plenty of choices
Cons:
Can sometimes tarnish
Not ideal for a very first piercing
7. Bioplast
Bioplast is effectively a medical-grade "plastic." It's used for medical applications and is completely inert, meaning it won't create any kind of reaction with skin or bodily fluids.
It's also flexible, so if you happen to accidentally bump or push your nose, there won't be as much stress put on the piercing.
Price Range: About $5-$15.
Pros:
Hypoallergenic and inert
Comes in a clear form that can be used as a piercing retainer
Is biocompatible enough to reduce your risk of infection
Cons:
Isn't as high-value as some other options
Comes in a limited range of colors
Worst Materials for Nose Rings and Other Nose Jewelry
1. Plastic/Nylon/Acrylic
Acrylic, nylon, and other plastics are sometimes used to make inexpensive nose piercings and other types of body jewelry. They come in bright colors and sometimes incorporate interesting shapes.
However, depending on the exact grade of acrylic, nylon, or plastic used, these pieces of jewelry may not be able to be completely sterilized. Their color also tends to wear off very quickly.
Price Range: About $5-$10.
Pros:
Come in lots of bright and unique colors
Can be found almost anywhere
Very affordable
Cons:
Not safe for use with healing piercings
Colors may wear off very quickly
2. Plated Metals
If you like the look of silver or gold, you might see plated metals as an inexpensive way to achieve the same look.
However, plated metals come with some degree of risk. The plating will usually wear off in time, exposing the underlying metal. Depending on the exact metal used, you may develop skin irritation or have a reaction.
Price Range: About $10-$30.
Pros:
Offer you the look of precious metals without the high price
Can be made with hypoallergenic metals for minimal risk of reaction
Very common, so there are plenty of jewelry types to choose from
Cons:
The coating can wear off and cause irritation
Over time, the coating can become dull or chip away
3. Sterling Silver Nose Rings
Sterling silver is a high-end metal that's used in many types of jewelry. However, it's not ideal for nose piercings.
Sterling silver is not pure silver, so it includes other metals. Nickel is a common additive that can cause severe reactions. Sterling silver also tarnishes when coming into contact with body fluids, so it's an especially poor choice for a first piercing.
Price Range: About $10-$40.
Pros:
Is fairly high value
Has a lovely shine
Is common and used in many jewelry designs
Cons:
Will tarnish when contacting body fluids
May contain reaction-causing metals
4. Nickel
Nickel is probably the absolute worst metal for any type of piercing. It's inexpensive and strong, so it's often added to metal alloys to strengthen them.
However, it's infamous for causing allergic reactions in many people. And since it isn't biocompatible, it can actually get in the way of a new piercing healing.
It's worth noting that nickel isn't usually used alone as a piercing metal; it's simply included in many alloys, especially very cheap ones.
Price Range: About $5-$10.
Pros:
Very strong and durable
Very affordable
Is a decent option if your skin tolerates nickel
Cons:
Can cause skin reactions, some of which are severe
Gets in the way of healing
To Conclude
Regardless of nose jewelry type, make sure to choose from the best metals for nose rings mentioned above in order to avoid infections or adverse reactions.